Welcome to my website. I am so Happy you are here!
I'm a psychotherapist, author and speaker, dedicated to helping people heal from betrayal trauma and heartbreak, so they can in turn create authentic, meaningful, and emotionally connected relationships in their lives.
Whether we work together in therapy, coaching or through my book and online courses, workshops, videos, articles and talks, you have an inner resource INSIDE of you, which I call HOPE (see more on that below) and I want to help you find it.
Boils down to three thing.
I very much want to help you…
It's a term I use to describe your calm, curious, compassionate inner state, which will anchor you through the many ups and and downs in life and help you heal from the inside out.
2. Understand and heal your attachment style:
What's that?
See the free downloads below to learn more about what exactly that is and what exactly that entails. It's the key to having happy healthy relationships.
If you are living other people's realities and not following your heart, then you aren't really living now, are you?
I want to help you free yourself so you can be yourself.
And when you do that, you will be living the life you were meant to live.
If this sounds like something you both want and need in your life, then click the link below and get in touch!
"Inspired and inspiring. Thoughtful and thought provoking…"

-The Midwest Book Report-
Are you experiencing Heartbreak?
If so, there's hope inside of you and this book teaches you how to find it.
You CAN heal your heart after heartbreak no matter how impossible that may seem and you CAN thrive in your life after it.
You just need to learn what went wrong, what role you inadvertently played in it all and how to take a U-turn off the road of "Love's Labor's Lost" and onto the road of "Love's Labor's Won."
If you are suffering from the shattering pain of heartache, whether it be from a breakup or divorce, affair, abuse, or co-dependency in your relationship, ask yourself the following: am I ready to take action to heal my heart, transform my life and find my inner HOPE?
If you answered "Yes", than congratulations. Hope is on the way! Actually, it's already here. Now, empower yourself and begin the process of healing your heart by downloading this FREE self- help workbook.
Warning: opening up this Online Pandora's Box, means positive changes are on the way!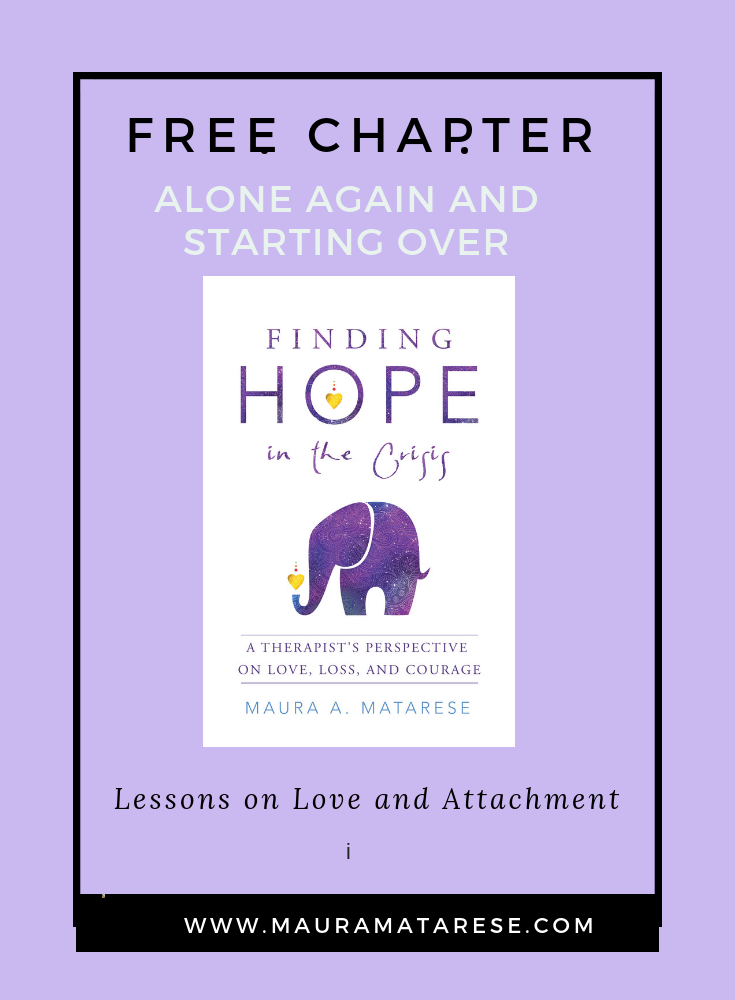 Curious about your attachment style?
Enjoy this free download from my book
Finding Hope in the Crisis: A Therapist's Perspective on Love, loss, and Courage.
Understanding your relationship challenges largely depends upon how well you understand your attachment style, which I call your "relationship map". This chapter teaches you all about your attachment style / relationship map, and how it got created in the first place.
Once you learn this, you can then learn how to redraw your inner topography, which will redirect you to happier, healthier relational destinations.
It's a real game changer, one that will help you start to enjoy your journey towards wellness, and begin having wining seasons in all your relationships.
"The winds of change are blowing, so set your sail!" - Ramakrishna
Be the first to receive the latest videos, articles, workshop dates, self-help tips, and more by signing up for my newsletter.